You would have to have been living under an "internet rock" if you hadn't noticed that video is rapidly overtaking the internet – from YouTube to Facebook to Social Media.
Mark Zuckerberg recently suggested that within 5 years time, the content on Facebook would be nearly 100% video based!
300 hours of video are uploaded to YouTube every single minute and collectively the world watches 5 Billion videos on YouTube every single day!
Wyzowl statistics show that 63% of businesses have started using video-based marketing and out of those businesses who use it – 82% feel it's a vital part of their strategy.
For those not completely sold on video marketing – here are 5 reasons that jumping on the video bandwagon now (as opposed to 3-5 years time) is the best time to jump on.
1. Video on websites boost conversions and therefore sales
A lot of research has been done by independent analysts and the stats show that businesses who use video on their website increase conversions by 80% or more.
The below infographic courtesy of HubSpot explains it pretty well.
Businesses are really investing in it – and there is a reason: it works!
The average number of videos that businesses are publishing each month (who are investing in video marketing as a strategy).
The other stat that I find intriguing is that 293 is the average number of videos that businesses have in their content library.
Have you ever been to a business website that has a strong bank of information based content (especially video) to help you with your buying/research decisions?
Those businesses that have these free resources available for us are the ones that best engage with us by giving us the information we need and in doing so, gain our trust.
When it comes time to doing business – who do we do business with? The ones who have worked hard to gain our trust and help us in our buying decision.
Video is great for this!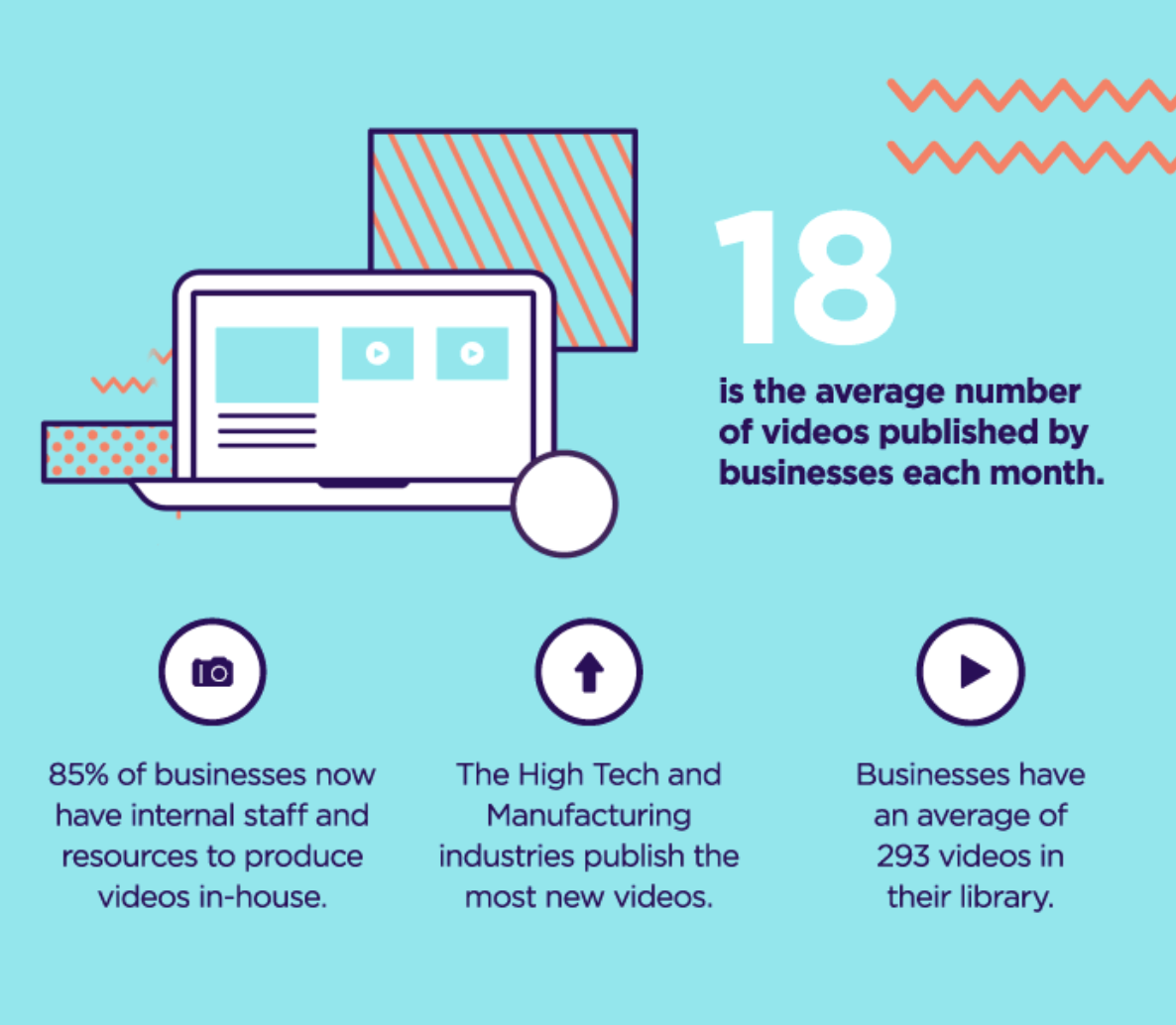 2. Video Helps Your School Build Trust – Fast
Building trust is one the (if not the) key foundations to acquiring a new customer (or student).
To make any transaction (especially a significant one such as choosing a school) we have to have full trust in the business we are investing in.
Choosing a school is a huge decision for a parent to make – and you have to work very, very hard (and smart) – to build the trust required for the parent to believe that your school is going to provide the best educational opportunities for their child.
Video does all of this so well. We live in a visual world and we buy on emotional triggers. Our vision is probably our most predominant sense. When video marketing is done well with clever story-telling, visual messages are sent to our brains with emotional stimulants.
When the story is told well – trust is built in a really effective way.
3. The search Engines Love Video
Hands up if you want to be at the top of Google when someones does a search for "Primary Schools (insert your area) or "secondary schools (insert your area)"?
Moovly summed it up pretty well. You are a massive 53% more likely to show up first on Google if you have video on your site.
The value of being in the first, second or third place in Google is invaluable to your school – it truly can't be underestimated.
Since Google owns YouTube – and paid a handsome sum of $1.65Billion for it way back in 2006, they really did dictate terms when it came to how the search engines performed.
Google is really smart (obviously) and rewards sites with higher rankings for multiple reasons.
One of those factors is how long people spend on your site.
If someone comes to your site and is gone within 5 seconds – and this consistently happens, the Google algorithms will see that your site is not relevant and is not providing a service to its visitors. The result is less brownie points and therefore being pushed down the rankings.
On the other hand – if you can consistently retain the attention of visitors and they are spending a considerable amount of time on your site then Google will recognize this and see you as a great resource for people searching for schools in your area.
Videos are a great way to keep visitors on your site for longer.
In addition to time on site – Google gives many advantages to businesses that use YouTube to host their business videos.
If you use some basic SEO (search engine optimization) techniques on your videos when you upload them – google will really look after you.
Digital Eagles wrote a really handy article on how to name your videos and what to use in the keywords when you upload them.
4. Video is accessible to all of those parents who are time poor
Let's face it. We live in a busy world and we have all found ourselves short on time.
Video can engage all of those people who don't have the time or the inclination to sit down and read paragraph after paragraph about every different aspect of your school in text format.
The trend in today's digital land is to pull information from websites and keep everything very, very simple. Lots of pictures and visual stimulants and videos.
The reason this is happening is because we have worked out that no one wants to read anymore. We just want to watch and look!
Video is really fast – and easy to engage with – and a great learning tool. But most of all, it's what we have come to expect in today's digital (or video) revolution.
Conclusion
Video marketing is the future of online engagement and selling.
The companies who invest in building their video collateral now will reap handsome dividends down the track.
To use an analogy – when the traditional libraries were in fashion – there always had to be an investment in new books and a wider range of books as a resource.
The more books a library had the more successful they would be. Libraries knew that had to continually invest in their collateral (books) to keep people coming in and borrowing the books they already had there.
School websites are no different in today's environment. They are essentially resource centers – but in most cases, they have very little (if any) collateral that is valuable.
Schools should definitely look at building their video collateral.
Not only will most schools see an instant uptake in engagement, conversions and beyond that enrolments, but a long-term strategy around video marketing will see them build the equivalent of the Library of Congress in Washington DC – a mothership that will be impossbile to sink.
By Richard Mills – CEO/Founder (Digital Schools)