With the rise of social media over the last decade, many marketers were questioning the relevance of email marketing as a strategy to engage, nurture and sell to prospective customers.
Social media marketing became the new thing to do – and marketers were seeing a great return on investment (us too)!
However, as the trend continued to grow – more and more people came to social media to sell and engage.
Did you notice that 5 years ago, Facebook was all about connecting with friends and family? Every time you logged on to the platform you were inundated with photos and posts of people sharing their life experiences.
But today – you log onto Facebook and you are lucky to even see an update off a family member without having to skip through the sea of ads and promotional campaigns off all the companies that are chasing your eyeballs (and eventually your dollar).
Well – this is a good thing for email marketers (like us). There still is competition for attention in the inbox but I don't feel it's as saturated as social media.
What is email marketing?
Email marketing is a type of direct communication businesses have with customers where they send the same message to a group of people that they have on a list.
The list should be made up of people who have shown an interest in their product, service or business in the past and who have indicated that they wish to receive information from that company.
Email marketing is commonly used as a way of acquiring new customers and introducing them to your brand, building awareness, sharing valuable information and at the highest level generating sales.
It's also a great way to build trust and loyalty with prospective and current customers.
People are smarter with which businesses they share their email address with (and that's good news for schools)
The days leaving your email address all over the web willy-nilly are gone. Consumers are aware that if a company wants their email address then they have to expect they are going to be receiving promotional emails.
And no want one wants more emails right?
It's now easier than ever to unsubscribe from an email list you don't want to be on anymore.
Most email providers have a "quick unsubscribe" even if the company that is sending you the email makes unsubscribing harder than getting a bank loan.
The result of all of this is cleaner inboxes for all of us – and that is great – because the competition for attention is less.
If you provide a great enough incentive for someone to leave their email address for something as important as choosing a school then we are certain to pick up lots of prospects.
People still check their inbox multiple times per day
According to statistica people check their emails between 1 and 15 times per day. How fantastic is that? People still value their email account so much that they check it that many times to ensure they don't miss anything important.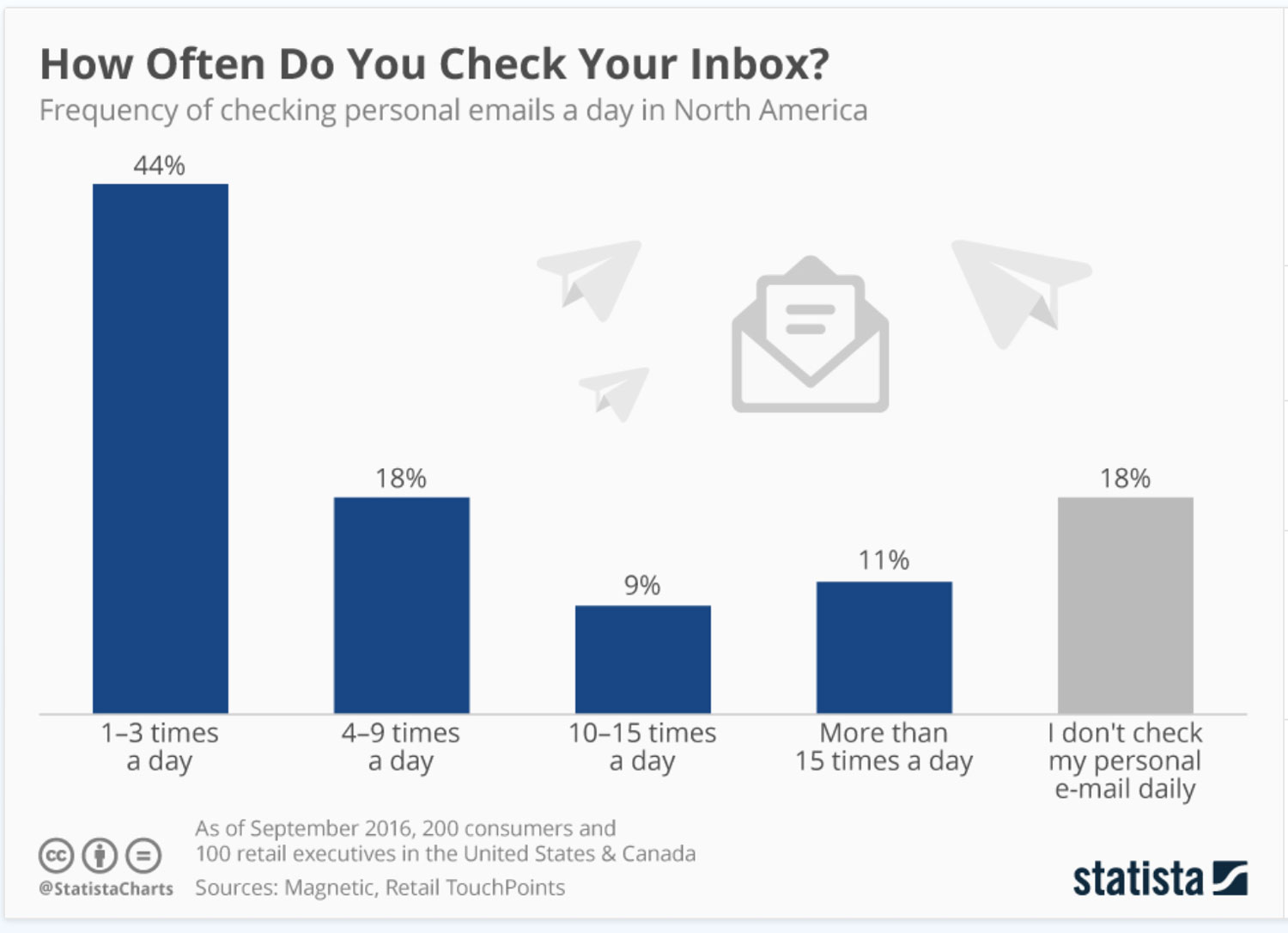 Email Marketing is Cost Effective
The great thing about email marketing is that it is cost-effective. Once you pay for your platform (generally an annual fee) you are good to go. Some popular platforms are Mail Chimp, Infusionsoft, Active Campaign, HubSpot and Marketo.
Email Marketing is Personal
Email marketing can be personalised very easily.
Once you acquire the information of your prospective customer, you can personally address them in your email marketing campaigns.
Emails that are personalised have much higher open rates and click-through rates.
Here's an example of a simple personalisation (see the text in the red block at the top "Hello Emily"):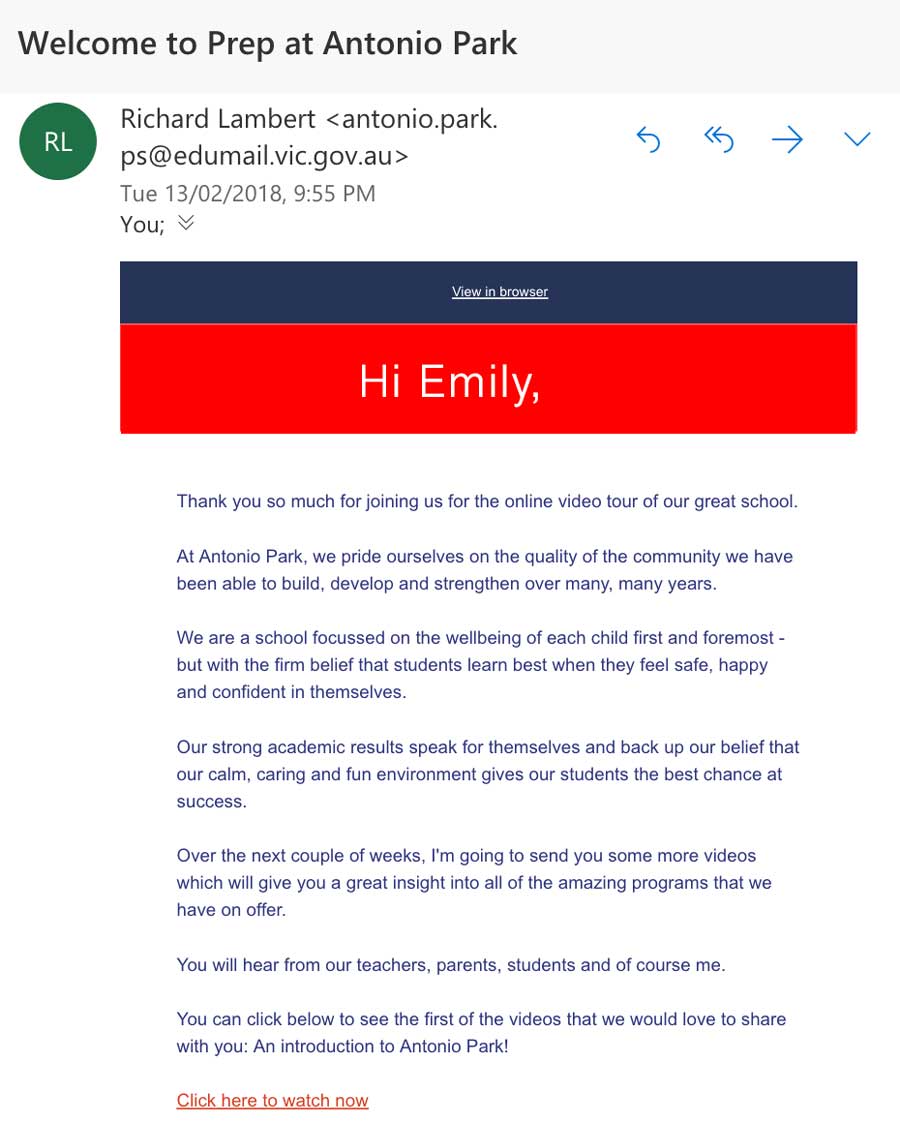 You don't have to personally write this email for every prospect. The great thing is you write it out once and add a simple formula when typing your broadcast email and it looks something like this:
———-
Hello %FIRSTNAME%,
Thank you for showing an interest in our school…..
The %FIRSTNAME% is the formula – and the system will automatically pull the first name from your database and add it to the email.
You can use lots of other customisations if you want to get more advanced!
———-
Email marketing can be automated to save you a ton of time
Automating the email marketing for your school is awesome because you can literally set it up once and know that everytime someone shows some interest in your school and leaves their email address to hear more about you, they can go into an automated email campaign and have the system touch base with them using a series of triggers that you set.
You can trigger the emails to go out every day, every 2 days, once a month or once a year.
You can even set it up so that if someone is opening your emails or clicking on links in your email then they can be automatically tagged in your database as a lead that is highly engaged.
It's at this point in time that you can choose to get on the phone and follow them up.
This ensures that you are only spending time dealing with prospects who are most likely to "buy" or in our case enroll.
Email marketing is a great way to share positive and helpful messages
A carefully thought out email marketing campaign is one of the most effective (if not the most effective) marketing strategies we have access to today.
At Digital Schools, a brilliant email marketing system is one of the pillars of how we help grow school enrolments and engage current and prospective parents.
We offer an online video tour – dozens of videos all set up to go out on auto-pilot to any parent who registers interest in the school.
As soon as someone registers for the online tour for the school – like clockwork, the videos are distributed over the course of a few weeks.
Slowly – and surely, we are indoctrinating these parents with positive stories about your school.
Our tours are so engaging, we get open rates of 90% or more for many of the emails we send for our schools – and clickthrough rates on 60% or more.
These stats are a long, long way above typical results and can be attained only if you make the information in your email valuable enough.
Conclusion
A carefully thought out and well-executed email campaign is like GOLD to a business or school.
On the other hand – and a poorly thought out campaign is annoying. If you are just emailing them every day and asking them to enroll – you will turn them off and land on the unsubscribe list.
If you are going to have a go at email marketing for your school – be sure to make it good. Give your prospective parents something of great value that is going to help them.
Remember, your job is not to sell to them, but to give them the best quality information to help them choose a school.
The selling will happen silently in the background. If you do it this way, trust will be built, your message will be shared and without doubt, you will move right up the list of schools that those parents will choose from – and quite possibly – if you do it will enough you will be at the top!
By Richard Mills (CEO/Founder Digital Schools)